A route through the desires, the block frustrations and the hidden yearns of the body, by the experimentation's path of two characters that try to find the way to relate to each other.
A reflection about what we really are and what the protocol wants us to be.
A hunting place for their bodies where they will fight between the instincts and the convention.
Everyday they wake up with their dreams in mind. And everyday is more difficult to leave those dreams in that coach that makes them feel so confortable, so good, so much themselves. Everyday they leave that bed, with that coach behind them and they must wash their faces to sterilize themselves, and become, every time more, something that they are not. Protocols cover them and indicate every step they make; and, meanwhile, their dreams inside that coach that they are... And every time, that one is stiffer, and less confortable, and dreams starts to turn off for not letting them just be freely, for not leave them breath in life. And every time those dreams are more alien in their life. And every time they want to get up less from that bed, because every time their life is more foreign to them. And every time realities are less real and their instincts less pure.
And every time the explosion is closer and the reasoning more in the sidelines. And every time the dreams are more alive and they are more ready. And every time they want to talk less and to feel more. And every time the only thing that starts to be important is pleasure and life, and the pleasure for living.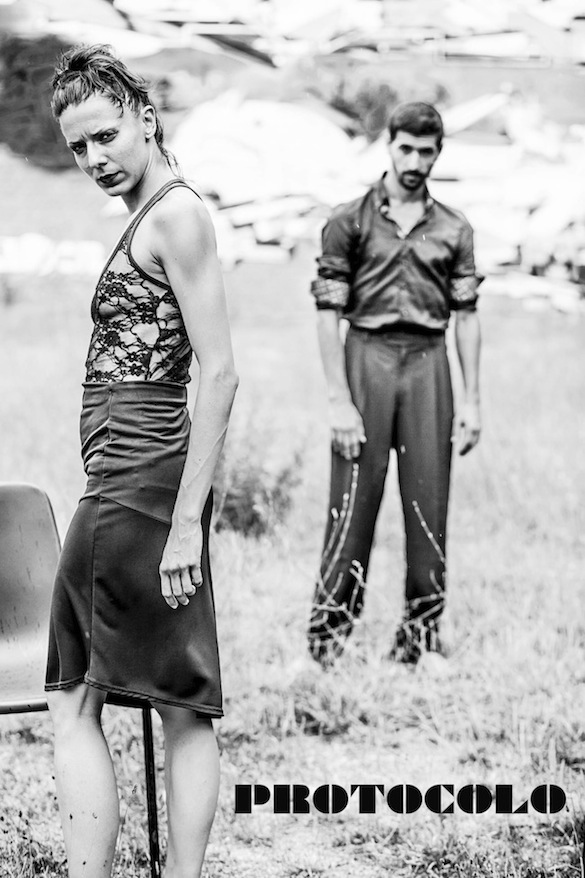 [TEAM DESCRIPTION]
Direction_ Meritxell Checa
Creation & Interpretation_ Hansel Nezza & Meritxell Checa
Music Composition_ Pierre Le Bourgeois
Texts_ Rubén Lardín
Camara & Photography_ Sharon Lomanno
Video_ Meritxell Checa
Technical Director_ Begoña García
English translation_ Claudia Solano, Lillian Stillwell, Marc Duckett
French translation_ Laura Lardín, Jeanne Robert
Audio Record French version_ Alexandre Castres
Costumes_ Purificación Esteban & Meritxell Checa
With the collaboration of_ Institut Català d'Empreses Culturals,Generalitat de Catalunya, l'Estruch
Lenght_ 1:05:00
Thanks to: Aline Jaulin, Juliette Medevielle, Pascal Redon, Ransel, Claudia Solano, Alexandre Castres, Cristina Hernandez, Maria Martin, Ioannis Michos
[PERFORMANCES]
2014_ Teatre Estruch, Sabadell (s)
Nunart Guinardó, Barcelona (s)

Teatro Xtremo, Jaen (s)

Sala Baratza, Vitoria (s)

Akropoditi, Syros (gr)